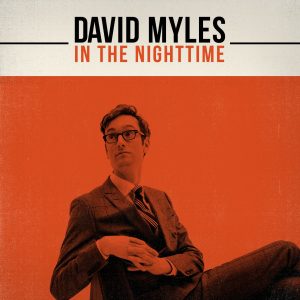 Incluant « En décembre » un duo avec Lisa Leblanc, cet album entraînant vous fera passer de bons moments.  Un album double regroupant les deux personnalités de David Myles, le crooner sensuel et le showman énergique.
David Myles construit son propre chemin en embrassant à la fois la pop, le folk et la musique soul. Gagnant de plusieurs prix, celui qui a  parcouru le Canada d'est en ouest, s'est bâti une réputation d'entertainer hors pair. On reconnaît David Myles  par sa voix pleine de soul, de pureté et de séduction.
EN SPECTACLE
16 octobre – Montréal – Upstairs
17 octobre – Lavaltrie – Centre Culturel La Chasse-Galerie
18 octobre – Québec – Palais Montcalm – Place d'Youville
19 octobre – Sainte-Thérèse – Église Sacré-Coeur
20 octobre – Sherbrooke – Théâtre Centennial
Le disque Un de cet album double, réalisé par Aaron Davis, est rempli de
chansons pop vintage et de ballades folk romantiques. Le disque Deux, quant
à lui, est un EP de six pièces contemporaines et rythmées, réalisé par l'artiste
hip-hop Classified.
Si le premier constitue l'accompagnement sonore idéal pour un souper entre amis, le second se révèle parfait pour lancer une soirée de danse endiablée. Oui, chaque album instaure sa propre ambiance, mais ils sont tous deux unis par la qualité des chansons signées David Myles et par sa voix apaisante et unique.
Onze pièces sur l'album  1
« Maureen, Tell Me What, I Wouldn't Dance, What Would I Have To Do, Be With You, Can't Take My Eyes Away, All I've Got To Give, En Décembre, Kiss You Goodnight, Change My Mind, How To Believe »
« What Would I Have To Do »  décrit parfaitement les émotions fluctuantes qui accompagnent une peine d'amour.
Vous constaterez que le désir traverse cette collection de chansons du début à la fin. Myles inclut également dans le lot une série de morceaux inspirés par la « vague doo-wop » des années 1950. « Change My Mind », par exemple, qui parle de la nostalgie d'un temps plus simple. Une chanson que ses invitées, Rose Cousins et Meaghan Smith, agrémentent délicieusement de leurs harmonies vocales parfaites, et de leurs «shoo-bee-doo-wah»
On retrouve sur ce disque toute la spontanéité et toute l'authenticité d'un vrai concert avec d'excellents musiciens en studio, David Piltch à la basse, Kevin Breit à la guitare et à la mandoline, Davide DiRenzo à la batterie et Aaron Davis au piano.
Six pièces sur l'album  2
«How'd I Ever Thik I Love You, What Would I Have To Do, One In A Million, So Blind (feat. Classified), I will Love You, Peace Of Mind (feat. Classified)
Le second disque, surnommé Afterparty, est la suite du projet né de la collaboration de longue date entre David et le réalisateur hip-hop canadien Classified. Une collaboration qui a donné naissance au succès deux fois platine Inner Ninja. Les morceaux qui se trouvent sur cet EP sont très urbains, meublés de sonorités vintage de R&B et de rock and roll.
Myles confirme pleinement avec In the Nighttime sa réputation d'entertainer.