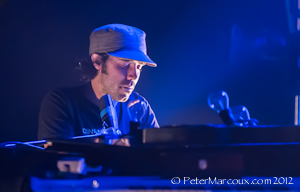 Patrick Watson et ses cinq musiciens on fait vibrer la salle Louis Fréchette du Grand Théâtre de Québec, la salle est pleine à craquer. Des fauteuils ont été retirés à l'avant de la scène pour permettre aux gens de se rapprocher des artistes. On nous remet une petite lumière à l'entrée, afin de participer visuellement au spectacle.
Artiste québécois de l'année – interprétation autres langues au Gala de l'ADISQ de 2012, Prix miroir innovation au Festival d'été de Québec, les prix s'ajoutent à son succès. À son quatrième album depuis l'an 2000, après Just another ordinary day (2003), Close to paradise (2006) et Wooden arms (2009).
En fin de tournée , il interprète son plus récent album, Adventures in your own backyard :
Lighthouse
Blackwind
Step out for a while
The quiet crowd
Into giants
Words in the fire
The things you do
Strange croked road
Noisy Sunday
Adventures in your own backyard
Swimming pools
Un spectacle très artistique, poétique et haut en couleurs d'une heure cinquante minutes. Violon, guitare, basse, guitare, batterie l'accompagnent et une égoïne joint les rangs pour une pièce. Deux cônes de tissus sont installés sur la scène, à la fois pour le son et pour permettre des projections. Des oiseaux et des poissons y sont projetés à travers le spectacle. Des fils lumineux descendent du plafond, donnant une impression d'étoiles. Les éclairages se veulent sobres.
Il nous parle en français et fait quelques gags, dans un langage très québécois. Il dédie une pièce à Madame Thérèse, une à ceux qui parlent trop et pas assez, une à leur famille dont ils sont éloignés depuis un an, une pour un gros oiseau dans une petite cage. Il débute souvent ses pièces seul au piano.
Avec trois pièces au rappel, il termine avec sa très touchante pièce de Great escape que l'on peut entendre sur Youtube
http://www.youtube.com/watch?v=YA2h9PrIUxs
Une ovation a conclu sa prestation.
En première partie Fred Fortin a interprété 6 pièces de son répertoire avec un autre guitariste. 40 minutes de prestation avant l'arrivée de Patrick Watson à 21 h.
Patrick Watson : chant, piano et harmonium
Simon Angell : guitare
Mishka Stein : basse
Robbie Kuster : batterie et percussion
Mélanie Belair : violon
http://www.adventuresinyourownbackyard.com/
http://www.grandtheatre.qc.ca/
© Peter Marcoux