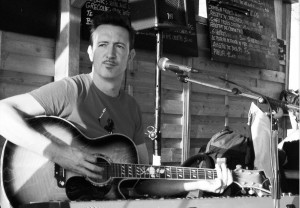 Vinz est un voyageur, un touche à tout, auteur-compositeur-interprète et multi-instrumentiste. Artiste sensible, torturé, éclectique et poétique, il nous transporte dans son monde particulier et unique tout au long de ce premier opus qui sortira le 19 février 2013 en magasin.
« The Birth of Leon Newars » est un album varié où toutes les palettes du musicien ressortent magistralement dans un ensemble cohérent. La poésie, le folk, le funk, la soul, le jazz, le blues et même le reggae se mélangent à merveille autour de la musique de la Nouvelle-Orléans, ville où Vinz a vécu pendant deux ans et dont la musique de l'artiste reste imprégnée. On trouve dans cet album cinq titres en français et sept en anglais incluant deux duos avec les chanteurs Québécois Mark Robertson et Ben Racine.
Vinz écrit les textes et la musique de ses chansons, mais il joue également le piano, l'orgue, la basse et la guitare en plus de chanter. Il s'est allié pour cette aventure au producteur et directeur de l'étiquette de disques Iguane Records Nicky Estor qui joue la batterie, au saxophoniste Frankie Thiffault, récemment nominé dans la catégorie saxophoniste de l'année aux Maple Blues Awards, à la trompettiste Montréalaise Rachel Therrien ainsi qu'à trois choristes de France ( The Jouby's ).
Adepte du mélange des genres, Vinz réussit son pari et nous offre un premier album qui nous plonge dans un voyage rempli d'images, d'humour et de sensibilité.