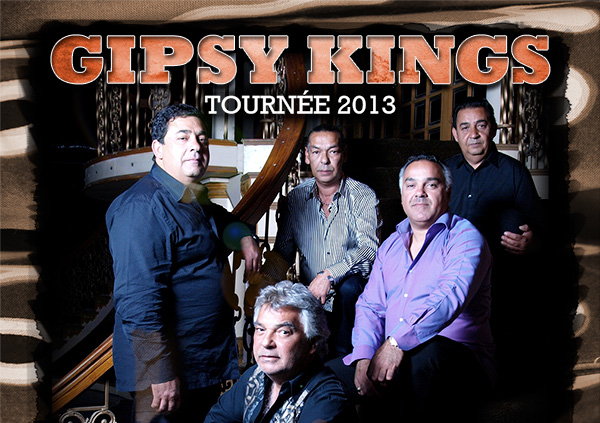 GIPSY KINGS
Ce jeudi 2 mai à 20 h / Théâtre St-Denis
QUELQUES BILLETS ENCORE DISPONIBLES
Billets en vente à la billetterie du Théâtre St-Denis
Par téléphone: (514) 790-1111
Commandez en ligne: www.ticketpro.ca ou www.evenko.ca
Billet: 68,75$/ 73,75$/ 83,75$ (incluant taxes et frais de services)
evenko présente les GIPSY KINGS, ce jeudi 2 mai au Théâtre St-Denis.
Au cours des années, les Gipsy Kings— dont les membres ont vécu dans les campements gitans situés à Arles et à Montpellier, dans le sud de la France,  ont été des chanteurs et des guitaristes issus des familles Reyes (Canut, Nicolas, Pablo et  Patchai) et Baliardo (Diego, Paco et Tonino).  Le leader et chanteur Nicolas Reyes est le fils du célèbre chanteur de flamenco José Reyes, qui, avec Manitas de Plata, ont vendu des millions d'albums dans les années 60 et 70.  Leur chant passionné et leur jeu de guitare endiablé ont forgé leur signature musicale reconnue comme étant du "rumba flamenca."
Il n'y a aucun autre groupe, dont la langue n'est pas l'anglais (la langue du groupe ;étant un dialecte gitan), qui a connu autant de succès aux États-Unis. Depuis la sortie de leur hit planétaire "Bamboleo" en 1987,  tiré de leur premier album éponyme, les Gipsy Kings ont dominé les palmarès de la  »World Music » et ont vendu plus de 14 millions d'albums, dont 4 millions aux États-Unis seulement. Leur compilation certifiée platine, The Best of the Gipsy Kings, est demeurée sur les palmarès pendant plus d'un an.
Les albums certifiés or, Mosaique, Allegria, Este Mundo, Gipsy Kings Live, Love & Liberté, Tierra Gitana, Cantos de Amor, Volare! et The Very Best of the Gipsy Kings ont produit une série de hits qui se sont hissés sur les palmarès  »World Music »,  »Latin » et  »Pop » du Billboard.  Soulignons que la musique de la formation a été utilisée dans plusieurs films dont Fearless de Peter Weir et The Big Lebowski de Joel et Ethan Coen.
Au cours de cette tournée, les Gipsy Kings nous offriront les chansons de leur plus récent album ainsi que leurs innombrables hits.
Pour plus d'info, visitez: www.gipsykings.com
photo: courtoisie