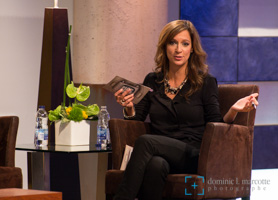 La plus artistique des chaînes de télévision québécoise, ARTV, lance sa programmation 2013-2014. Elle met une fois de plus la créativité des artistes et artisans québécois au coeur de sa grille horaire.
La grosse nouveauté de la saison est l'émission Rêves d'acteurs. Elle consiste à donner le rôle de leur vie à 12 comédiens en créant une bande-annonce complètement folle. L'équipe derrière ce nouveau concept (Amélie Lafleur, Julie Roussel, Émilie-Delphine Delaunay, Anthony Ferro et Jérémie Cousin) devront scénariser une bande-annonce de film dans laquelle le comédien invité campe le personnage de ses rêves. Une émission qui promet, en onde les jeudis à 19 h, dès le 12 septembre.
C'est juste de la TV revient cet automne avec une formule renouvelée et plus interactive. Marie-Soleil Michon  prend la barre du magazine avec ses nouveaux collaborateurs Dave Ouellet et Jean-Michel Duffaux, ainsi que Anne-Marie Withenshaw qui sera de retour dès janvier. D'autres collaborateurs viendront se greffer à l'équipe tout au cours de la saison dont Korine Côté, Anaïs Favron, Alex Perron et Benoît Chartier. Cet automne, se relaieront Isabelle Racicot, Rebecca Makonnen, Catherine Trudeau, Marie-Claude Savard, Thérèse Parisien ainsi que Marie-Claude Barette afin de combler le siège vacant de Anne-Marie Withenshaw, présentement en congé de maternité.
Plusieurs émissions phare de la chaîne sont de retour au plus grand plaisir des télespectateurs dont ARTVStudio, Pour un soir seulement, Pour l'amour du country, Lire et finalement Les grandes entrevues.
Plusieures séries documentaires sont aussi au rendez-vous. Voulez-vous fêter? – un tour du monde festif en 15 épisodes (hiver 2014), BD QC – la passion de la BD à travers des mondes éclatés (hiver 2014), Visite libre et Le design est partout – architecture et design sous la loupe de la créativité, ainsi que Documentaires, Destination ARTE et Les grands spectacles.
En terminant, ARTV proposera également son lot de fictions étrangères qui rivalisent d'innovation et repoussent les limites de l'imagination. Parmi ces dernières, notons la troisième saison de Borgen, une femme au pouvoir (hiver 2014), Au bout du lac (v.f. de Top of the Lake), Bienvenue au paradis (v.f. de The Paradise), Les revenants et La spirale (v.f. de The Spiral).
Une riche programmation qui fera de chaque jour, un spectacle!
Pour plus d'information sur la programmation : http://www.artv.ca
Galerie photos : http://www.flickr.com/photos/infoculturephotos/sets/72157635459430748/
Crédit photos : Dominic L. Marcotte Photographe
www.dominiclmarcotte.com