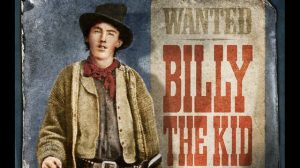 Le dimanche 18 mai à 20 h, Télé-Québec diffusera l'histoire trouble d'une icône du Far West américain, un hors-la-loi dangereux à la gueule d'ange, un criminel notoire et un fugitif : Henry McCarthy, alias Billy the Kid. Au fil des années, l'homme a fasciné plusieurs grands cinéastes hollywoodiens et a nourri l'imaginaire d'un bon nombre d'écrivains. Mais qui se cache derrière cette figure mythique?
La petite histoire
Fils d'une pauvre famille d'immigrants irlandais, Henry McCarthy quitte le bourbier de New York dans les années 1870, attiré par les mines d'argent du Nouveau-Mexique. Orphelin à 15 ans, il est recruté par les bandes de ce coin de pays sans loi et fait couler le sang… et l'encre des auteurs de récits violents. Commence alors sa vie de criminel, et Henry devient William H. Bonney, dit Billy the Kid.
On a présenté Billy the Kid comme un jeune homme intelligent et séduisant. Mais, en dépit de cette figure romantique, il était aussi un tueur de policiers, un assassin. Les gens le sous-estimaient chaque fois et se faisaient piéger. Billy était décrit comme un criminel impitoyable qui aimait semer l'anarchie sur son passage. Pourtant, d'autres préféraient voir en lui un représentant des sans-voix, le Robin des Bois du Nouveau-Mexique.
Rétablir la vérité historique de cette légende
Produit pour la prestigieuse chaîne PBS, Billy the Kid plonge dans le mythe en imbriquant des témoignages éclairants de biographes et d'historiens, des reconstitutions et des photographies d'archives, dont l'unique image du Kid adulte (à 20 ans), prise en 1880, un an avant qu'il soit rattrapé et abattu par le shérif Pat Garett. En ces temps où les hors-la-loi devenaient célèbres du jour au lendemain grâce aux romans à quatre cents, Billy prit naturellement place dans le panthéon aux côtés de Jesse James, Butch Cassidy et Wyatt Earp. C'est à ce moment de l'histoire américaine que se forgea une image toujours très présente dans la culture du 20e siècle : celle du bandit héroïque. Le réalisateur John Maggio brosse un portrait psychologique riche et plus fidèle à la réalité, qui démystifie les interprétations les plus extravagantes du destin bref mais tumultueux de Billy the Kid.
• Diffusion : Dimanche 18 mai 2014, à 20 h
• Production : Ark Media et John Maggio — États-Unis, 2012.