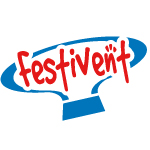 Le Festivent Ville de Lévis est fier d'annoncer que le groupe rap québécois Muzion ouvrira le spectacle de Wyclef Jean présenté dans le cadre de Célébrations Lévis 2011 en collaboration avec Loto-Québec, le samedi 6 août, à 20 h.
Le groupe, qui a déjà collaboré avec Wyclef Jean pour une pièce de son album Welcome to Haiti : Créole 101, est notamment récipiendaire de deux Félix pour l'album hip hop de l'année. Originaire du quartier Saint-Michel à Montréal, Muzion a deux albums à son actif, Mentalité Moune Morne et J'rêvolutionne, qui font déjà office d'œuvres majeures dans le hip-hop québécois.
Le 29e Festivent Ville de Lévis, qui se déroulera du 3 au 7 août, approche à grands pas! On rappelle que la prévente des passeports se termine le dimanche 31 juillet. Les passeports sont actuellement en vente dans les Couche-Tard et les Rôtisseries St-Hubert participants ainsi qu'au www.festivent.net au coût de 30.00$.  Pendant le festival, il sera possible de se le procurer sur place au prix de 35.00$.
Le passeport vous permet d'assister à plus de 50 spectacles, tels que Wyclef Jean, The Tea Party, Finger Eleven, Les Cowboys Fringants, Bran Van 3 000 et Rachid Badouri sur la Scène Loto-Québec en plus d'une panoplie d'activités et ce, pour toute la durée du festival. Des billets journaliers sont également disponibles au www.festivent.net ainsi que sur le réseau Billetech.
Tous les détails concernant la programmation sont disponibles au  www.festivent.net.