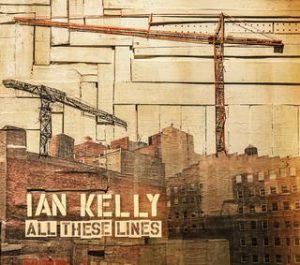 De la première note à la dernière, Ian Kelly incarne ce nouvel album, d'une voix complètement déliée et plus que jamais affirmée. Sans retenue : dans la foudre et la lumière.
Bien que courtes et d'une simplicité désarmante, ces quelques phrases décrivent un travail long de plusieurs mois : l'achèvement d'un quatrième album, All These Lines, que Ian Kelly a écrit et composé avec le cœur, mu par la seule volonté de parvenir à matérialiser, avec la plus grande exactitude, et jusqu'à satisfaction sereine, les pièces qui l'ont habité, des jours et des nuits durant, et qui l'habitent toujours.
De l'ouverture, « One Day », douce et feutrée mélodie folk dans laquelle prend racine un hymne grandiose, à « Breakfast For The Soul », dont le couplet se prolonge irrésistiblement, clôturant l'album dans une symphonie de voix, de guitares distortionnées et de batterie martelante – en passant par un duo, « The Best Years », qui touche au sublime et où l'homme marie sa voix à celle de Coral Egan, nous sommes ici face à un artiste en pleine possession de ses moyens.
Les dix titres de l'album : One Day, Do You Love The Rain ?, The World Stopped Turning, All These Lines, The Best Years, I'm On Your Side, I Just Can't Dance, Gold, The Astronaut, Breakfast For The Soul.
Sa pop-folk aux accents électroniques plaît instantanément. Avec simplicité, humour et émotion, il viendra nous présenter les pièces de son plus récent opus, All These Lines, à paraître cet automne. Coup de cœur assuré!
Ces lignes, l'auteur-compositeur-interprète   Ian Kelly les a écrites il y quelques semaines, alors que paraissait « Do You Love The Rain? », premier extrait de « All These Lines », son nouvel album disponible le 5 novembre prochain.
Une gestation lente, murie avec la complicité ponctuelle de son co-réalisateur, Éloi Painchaud (Elisapie, Jorane, Daniel Lavoie) en plein cœur des Laurentides au studio de Ian et à celui d'Éloi, à tout juste cinq minutes l'un de l'autre. C'est bien ainsi qu'ont pris vie les dix titres de cet album, mi-ombre, mi-soleil, à cheval entre les saisons.
All These Lines c'est également un tableau de 4X8 pieds créé spécifiquement pour l'album par l'artiste visuel montréalais Marc Gosselin après, du propre aveu de l'artiste, quelque 1500 écoutes. L'œuvre fut ensuite confiée aux fidèles acolytes de Kelly, la designer graphique Janique Crépeau et le photographe Martin Girard, qui assurent une fois de plus la direction artistique du visuel de l'album, eux qui collaborent avec lui depuis ses tout premiers élans.
Le lancement aura lieu le 7 novembre 2013 au Théâtre Corona à 17h30 à Montréal. Entrée libre
Ian Kelly sera en spectacle au Grand Théâtre de Québec le 3 avril 2014 à 20h00 avec Jonathan Cayer : claviers et trombone, Josh Toas : basse  et guitare et Kevin Warren : batterie pour informations : www.grandtheatre.q.ca
Do You Love The Rain, le premier extrait de son nouvel album All These Lines à paraitre le 5 novembre prochain. Il présentera son spectacle en Europe à la fin de septembre en compagnie de Sarah Slean et débutera une toute nouvelle tournée du Québec en mars prochain. Il sera d'ailleurs de passage le 30 avril 2014 à la Maison des arts de Laval.
Ian Kelly est de retour avec son meilleur album en carrière. En terminant sa tournée de plus de 50 dates, la montée d'adrénaline que lui procure une foule qui chante et danse avec son groupe est une révélation pour Ian. Il s'est mis au défi de composer des chansons qui feraient taper des mains et entonner les refrains. All These Lines amènera certainement de nouvelles oreilles à la musique d'Ian Kelly, surtout chez les plus jeunes, à cause de sa voix unique et de la production des harmonies vocales.
http://www.iankellysmusic.com/doyoulovetherain