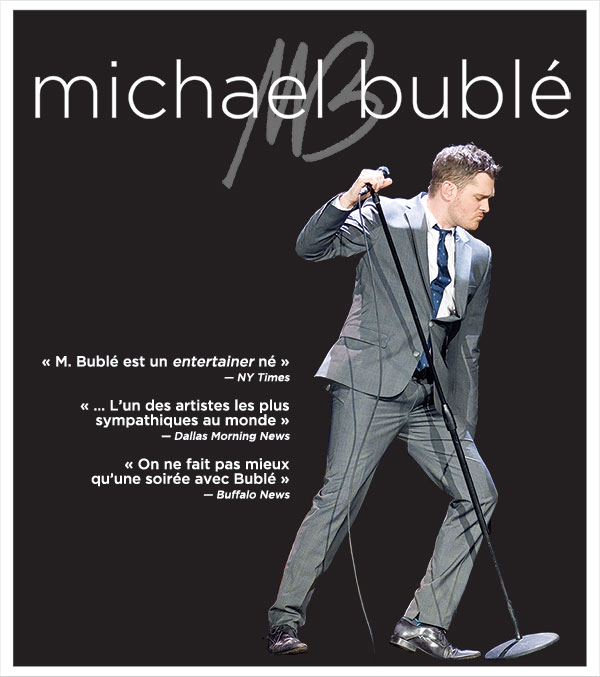 Il annonce les dates de sa tournée canadienne
MICHAEL BUBLÉ 
Le vendredi 4 juillet 2014 / Centre Bell
BILLETS EN VENTE VENDREDI 15 NOVEMBRE À MIDI
Billets en vente aux guichets du Centre Bell
Par téléphone: 1 855 310-2525
Commandez en ligne: www.evenko.ca
2014 marque le retour triomphant de Michael Bublé avec 8 concerts au Canada; il donnera le coup d'envoi à sa tournée le 19 juin à Vancouver et s'arrêtera à Montréal le vendredi 4 juillet au Centre Bell. L'itinéraire de la tournée est indiqué au bas du communiqué.
Bublé est sur le point de terminer une tournée américaine de 40 spectacles en appui à son sixième album intitulé To Be Loved, qui a fait son entrée en première position du palmarès pop Top 200 du Billboard en avril dernier.  En cadeau à ses fans, les albums de Michael, To Be Loved et Christmas, seront vendus en duo à prix spécial et seront en vente en magasin exclusivement au Canada le lundi 11 novembre. Bublé animera également une émission spéciale de Noël qui sera diffusée en décembre (détails à venir).
Superstar internationale, Bublé a donné 10 concerts à guichets fermés au O2 Arena à Londres (17 000 sièges) et 5 autres spectacles devant 10 000 fans  au O2 à Dublin cet été.  Sa tournée précédente, Crazy Love Tour fut présentée à guichets fermés dans 80 villes américaines et a été vue par plus de deux millions de spectateurs à travers le monde. To Be Loved est le quatrième album consécutif de Bublé à se retrouver en première position. Pour promouvoir cet album, il a coanimé The Today Show et a participé aux émissions de Kelly & Michael, The Ellen Show, Nightline, Dancing with the Stars, The Chelsea Lately et a fait une apparition surprise dans une station de métro à New York qui a fait sensation sur les réseaux sociaux. Le récipiendaire de plusieurs trophées Grammy a vendu plus de 45 millions d'albums au cours de son extraordinaire carrière.
To Be Loved, réalisé par Bob Rock, a été enregistré à Vancouver et à Los Angeles et comprend un mélange de classiques et quatre chansons originales coécrites par Bublé.  "After All", l'une des quatre, a été écrite et interprétée par Bryan Adams. On retrouve également sur l'album des reprises des  succès des héros musicaux de Bublé dont ceux des Bee Gees, "To Love Somebody", "Nevertheless (I'm In Love With You") de Dean Martin,  »Who's Loving You", des Jackson 5,  "To Be Loved" de Jackie Wilson et le classique d'Elvis Presley, "Have I Told You Lately".  Mentionnons que Bublé chante en duo avec l'actrice Reese Witherspoon, le succès de Frank et Nancy Sinatra,   "Something Stupid".
MICHAEL BUBLÉ – TOURNÉE CANADIENNE:
June 19            Vancouver, BC – Rogers Arena
June 22            Edmonton, AB  – Rexall Place
June 23            Calgary, AB – Scotiabank Saddledome
June 25            Winnipeg, MB – MTS Centre
June 28            Toronto, ON –  Air Canada Centre
June 30            London, ON –  Budweiser Gardens
July 2               Ottawa, ON  –  Canadian Tire Centre
Juillet 4            Montréal, QC –  Centre Bell*
*Billets pour le spectacle de Montréal seront en vente le vendredi 15 novembre à midi.
Pour plus d'information sur Michael Bublé, visitez:  http://www.michaelbuble.com
 photo: courtoisie