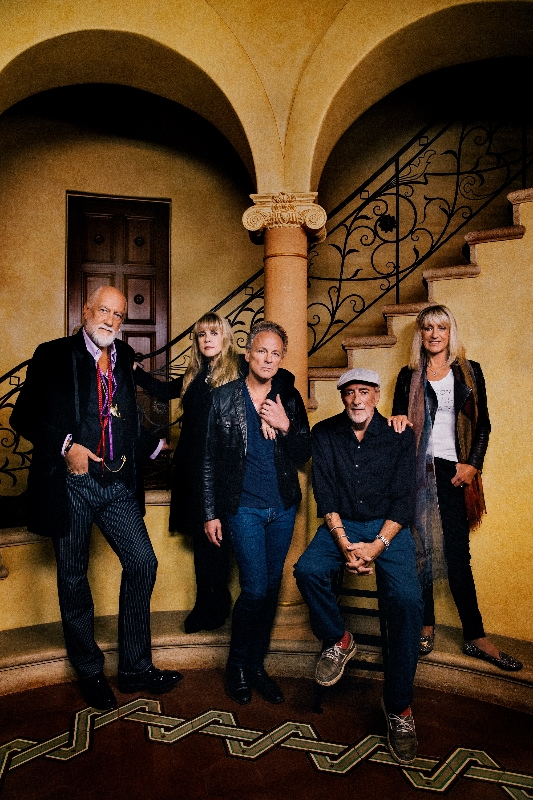 FLEETWOOD MAC
On With The Show – Tournée nord-américaine 2015
LE JEUDI 5 FÉVRIER 2015 À 20 H / CENTRE BELL
BILLETS EN VENTE MAINTENANT
Billets en vente aux guichets du Centre Bell
Commande téléphonique: 1 855 310-2525
Commandez en ligne: www.evenko.ca
Billet: de 63,50$ à 198,50$ (incluant taxes et frais de service)
evenko et Live Nation sont fiers de présenter FLEETWOOD MAC sur la scène du Centre Bell, le jeudi 5 février.
Le légendaire groupe rock Fleetwood Mac, qui a présenté deux concerts à guichets fermés les 6 et 7 octobre au prestigieux Madison Square Garden de New York, a ajouté 28 autres dates de concert à son itinéraire de la tournée ON WITH THE SHOW. La seconde portion de la tournée commencera le 16 janvier 2015 à St-Paul, Minneapolis. L'itinéraire complet de la tournée de Fleetwood Mac est au bas du communiqué.
Actuellement en tournée, les cinq membres originaux de Fleetwood Mac, incluant Christine McVie (qui a rejoint le groupe après 16 ans d'absence), ont reçu d'excellentes critiques de leur tournée On With The Show:
 » With the return of Christine McVie, band restores its « classic » lineup and plays their greatest hits to a sold-out Air Canada Centre. » – TheStar.com (Toronto)
 » Fleetwood Mac a unifying force!  » – The Ottawa Sun
 »With Christine McVie back in the lineup, a revitalized Fleetwood Mac gave a triumphant concert at Canadian Tire Centre on Sunday, delighting a sold-out crowd of 18,500 fans. » – Leader Post (Ottawa)
 » Fleetwood Mac… is a revitalized one with the full force of the five musicians. » – Calgary Herald
 »' Fleetwood Mac at the Forum: A band reunited, team spirit intact. » – Dailynews724.com (Los Angeles)
'Fleetwood Mac's concert reunion a triumph! With Christine McVie back in the fold after a 16-year hiatus, the Anglo-American band begins a welcome new chapter by looking back to its heyday.'' – U-T San Diego
 » Fleetwood Mac Leads a Loaded Reunion at Oracle Arena » – SF Weekly (Oakland)
'' The familiar elements of a Fleetwood Mac performance were present in abundance — Fleetwood's gaped-mouth timekeeping; Nicks' mystical twirling and top hat; Buckingham's incendiary guitar solos — but with Christine McVie back in the mix, the two hour-plus set felt slightly elevated, an extra, key ingredient making the well-worn (You Make Loving Fun; Little Lies; Say You Love Me) feel altogether revitalized. '' – DFW.com (Dallas)
"The principal emotion during the nearly 2 1/2-hour performance was the joy of having keyboardist McVie back in this group… She brought high harmonies and several songs, including 'Little Lies,' 'You Make Loving Fun' and the closing 'Songbird,' back into the repertoire. Nicks hasn't sounded this good since the early '90's. What a rhythm machine and what an articulate emotional guitarist Buckingham is." – Minneapolis Star Tribune
"It's still magical. Between Buckingham's epic guitar solos, Mick Fleetwood's massive drumming, John McVie's strong bass work, Nicks' patented spins to punctuate the lovely 'Gypsy' and Christine McVie's lush vocals, Fleetwood Mac looked ready to take on what Buckingham has called 'the next chapter.'" -Newsday
« Fleetwood Mac has the intricacy, elegance and underlying punch of its songs… » – The New York Times
"With Christine's songs back in the set, her calm, angular presence back on the stage, there was an undeniable feeling of rejuvenation… Fleetwood and John McVie on bass reminded concert-goers why the band is named for them… They still put a layer of muscle behind everything the band did… Buckingham was ferocious and tireless as lead guitar. This man is a vital musical presence – the soul of the band. Ditto for the vitality of Nicks, its cauldron-stirring spirit… Her showcase songs, 'Landslide,' 'Gold Dust Woman' and, especially 'Silver Springs,' were the night's highlights." – Chicago Tribune
"Drum solos can sometimes seem like an endurance test for a rock audience. It's a rare joy to witness one wherein the drummer seems to experience as much giddy delight as Mick Fleetwood did. He whooped and howled, coaxing the crowd in call-and-response shouts while demonstrating his singular rhythmic sensibility." – Chicago Sun Times
FLEETWOOD MAC – ON WITH THE SHOW – Itinéraire de tournée 2015
*Les dates, salles et villes sont sujettes à changement.
Jan. 16, 2015 St. Paul, MN Xcel Energy Center
Jan. 17, 2015 Lincoln, NE Pinnacle Bank Arena
Jan. 20, 2015 Grand Rapids, MI Van Andel Arena
Jan. 22, 2015 New York, NY Madison Square Garden
Jan. 24, 2015 Atlantic City, NJ Boardwalk Hall
Jan. 25, 2015 Uniondale, NY Nassau Coliseum
Jan. 28, 2015 Providence, RI Dunkin' Donuts Center
Jan. 31, 2015 Buffalo, NY First Niagara Center
Feb. 03, 2015 Toronto, ON Air Canada Centre
Fév. 05 2015 Montréal, QC Centre Bell
Feb. 07, 2015 Uncasville, CT Mohegan Sun Arena
Feb. 08, 2015 Newark, NJ Prudential Center
Feb. 11, 2015 Des Moines, IA Wells Fargo Arena
Feb. 12, 2015 Milwaukee, WI BMO Harris Bradley Center
Feb. 14, 2015 Chicago, IL Allstate Arena
Feb. 17, 2015 Louisville, KY KFC Yum! Center
Feb. 18, 2015 Cleveland, OH Quicken Loans Arena
March 01, 2015 Austin, TX Frank Erwin Center
March 07, 2015 Charlotte, NC Time Warner Cable Arena
March 08, 2015 Knoxville, TN Thompson–Boling Arena
March 11, 2015 Little Rock, AR Verizon Arena
March 12, 2015 Oklahoma City, OK Chesapeake Energy Arena
March 15, 2015 Charlottesville, VA John Paul Jones Arena
March 17, 2015 Greensboro, NC Greensboro Coliseum Complex
March 18, 2015 Nashville, TN Bridgestone Arena
March 27, 2015 St. Louis, MO Scottrade Center
March 28, 2015 Kansas City, MO Sprint Center
March 31, 2015 Wichita, KS INTRUST Bank Arena
À propos de Fleetwood Mac, visitez : www.fleetwoodmac.com