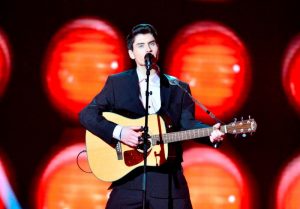 Une tournée en Europe, au Québec et un album en préparation!
Tandis qu'une grande aventure tire à sa fin, David poursuit avec enthousiasme la tournée majeure en France avec The Voice qui l'aura conduit dans des salles de spectacle avec des auditoires de plus de 3 000 personnes par représentation avec un total de 19 villes visitées. Il célébrera d'ailleurs le 14 juillet au Festival québécois des grandes voix de Monteux.
En plus de la tournée The Voice, David passe le plus clair de son temps à Paris pour la création de son premier album qui sera composé de chansons originales. Cet album sera sous l'étiquette Mercury Records un label d'Universal Music France. L'équipe créative entourant le projet investit temps et passion pour créer ce qui deviendra la première carte de visite de David sur le marché musical de la francophonie.
Afin de faire patienter son public d'ici la sortie de son tout premier album prévu à l'automne, David poursuit sa découverte des scènes québécoises en ne laissant personne indifférent sur son passage. La jeune sensation offre un spectacle surprenant en plongeant son public dans les années 50 et 60 par un univers très festif.
Sur la route du Québec dès le 17 juillet
17, 18 juillet – Club Dix-30
BROSSARD SUPPLÉMENTAIRES
16 septembre – Festival Western de St-Tite
ST-TITE
19 juillet – Salle Desjardins
ST-RAYMOND SUPPLÉMENTAIRE
19 septembre – Club Dix-30
BROSSARD SUPPLÉMENTAIRE
31 juillet – Nashville en Beauce
ST-PROSPÈRE
10 octobre – Auditorium du Cégep
TROIS-RIVIÈRES
1er août – Festival en août
CHIBOUGAMAU
11 octobre – Théâtre du Vieux Terrebonne
TERREBONNE
7 août – Théâtre Desjardins
VILLE LASALLE
15 octobre – Le Zénith
ST-EUSTACHE
8 août – Aréna de Newport
NEWPORT
24 octobre – L'Odyssée
GATINEAU
17 août – Le Zenith
ST-EUSTACHE
25 octobre – Église
ST-VICTOIRE DE BEAUCE
22 août – Neuville en fête
NEUVILLE
28 novembre – Salle Guy-Veilleux
COOKSHIRE
27 août – Festival de la chanson de Granby
GRANBY
29 novembre – Salle Albert-Rousseau
QUÉBEC