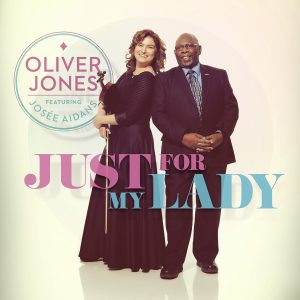 En écoute exclusive au www.espace.mu et www.music.cbc.ca du 23 au 30 avril
Trente ans sépare le premier album Live at Biddle's Jazz & Ribs et celui-ci enregistré à l'automne 2012, Just For My Lady, le 23ème enregistrement d'Oliver pour l'étiquette de disque montréalaise Justin Time. Encore une fois cet album nous démontre parfaitement la symbiose qui règne entre le légendaire Oliver Jones et ses comparses de longue date, le contrebassiste Éric Lagacé et l'extraordinaire batteur Jim Doxas. Que ce soit sur les pièces plus rythmées comme Josee's Blues ou sur les ballades romantiques Lights of Burgundy et When Summer Comes, le trio affiche une synergie complète qui vient du profond respect, de l'affection sincère et de la confiance totale que les membres du trio éprouve l'un envers l'autre.
Une forte présence s'ajoute sur le disque, celle de la violoniste Josée Aidans qui apporte une touche de swing et d'élégance féminine à l'exercice. Originaire de Montréal, Josée Aidans a accompagné sur scène et sur disque de nombreux artistes dont Céline Dion, Diana Ross, Diana Krall, Rod Stewart, Luciano Pavarotti, Josh Groban, Holly Cole, Yes, Claude Dubois, Ginette Reno et plusieurs autres.
Musiciens:
Oliver Jones – Piano
Josée Aidans – Violon
Éric Lagacé – Contrebasse
Jim Doxas – Batterie
Douze pièces musicales :
Josée's Blues, You Look Good To Me, Lights of Burgundy, The Angel and Mr. Jones – The Saskatchewan Suite, Prince Albert Sunrise, Regina Sky, Saskatoon Spirit, Just For My Lady, In The Key of Geoff, Ehen Summer Comes, The Windmills of Your Mind, Lady Be Good.
Sur la pochette et à l'intérieur de celle-ci, on y trouve une belle photo d'Oliver Jones et de Josée Aidans ainsi qu'un mot de chacun.
En spectacle
5 mai – Terrebonne – Théâtre du Vieux-Terrebonne
12 mai – Sept-Iles – Salle de spectacle de Sept-Iles
13 mai – Baie Comeau – Centre des Arts
16 mai – Gatineau – Salle Odyssée
8 juin – St-Hyacinthe – Centre des arts Juliette-Lassonde
5 juillet – Montréal – Festival international de Jazz de Montréal