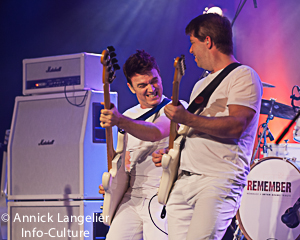 Le 20 septembre, dans une salle comble, le spectacle Remember, en hommage à Bryan Adams, nous a été servi sur un plateau d'argent au Centre d'art La Chapelle. Le chanteur et bassiste, Stéphane Martin, Richard Tavares (batterie) et Jean-François Bolduc (guitare) ont interprété avec justesse, finesse et énergie, vingt-cinq succès de notre rockeur chouchou, Bryan Adams.
Inspiré de la tournée en trio de Bryan Adams du début des années 2000, au concept « tout en blanc », l'hommage Remember prend vie en 2011. Depuis, la formation ne cesse de peaufiner leur prestation… Ça se voit et ça s'entend !
On est d'abord très agréablement étonné par la ressemblance, la puissance et la précision du chant de Stéphane Martin. Puis, très vite, on découvre les qualités musicales exceptionnelles des musiciens qui l'accompagnent et la maturité du travail de la formation. Que du plaisir pour les oreilles !
Le concept a été reproduit dans les moindres détails : les musiciens portent fièrement leurs T-shirts, pantalons et chaussures blanches ; les instruments de musique, les amplificateurs et même l'estrade sont également tout en blanc. Pas étonnant que le spectacle ait reçu le feu vert de l'équipe de l'idole canadienne !
L'ambiance est donnée, les sceptiques confondus !
Stéphane Martin a joué la totale du début à la fin, personnifiant un Bryan Adams débordant d'énergie, très à l'aise sur scène et, surtout, heureux d'être là. Par leur talent et leur complicité, Richard Tavares et Jean-François Bolduc ont haussé d'un cran la performance déjà bien rodée. (Merci Jean-François pour ta passion et tes solos remarquables !).
Que des hits…. 
Appuyé par une sonorisation sans reproche (François Jomphe), le spectacle a démarré avec les pièces Back to you, 18 til I Die et Can't stop this thing we started (hochements de têtes en cadence). Puis, Remember, la sentimentale Have you really love a woman, Fit's Ya good, Cloud no 9 (debout, on tape tous dans les mains), The only thing that looks good on me (on chante à l'unisson), Before the night is over (surprise !!!), When you're gone et She's only happy when she's dancing (pendant laquelle dix spectatrices dansent sur scène).
De beaux moments
La seconde partie du spectacle nous a réservé, elle aussi, de très bons moments et de petites anecdotes. Reprise en force avec les énergiques One night love affair, This time, Let's make a night to remember, l'explosive Kids wanna rock, Heat of the night, I'm ready (nous aussi !), Run to you (surprise, prise 2), It's only love, Heaven (nos lumières de cellulaires ont illuminé ce moment magique), Cuts like a knife (qui a donné lieu à une petite compétition amicale entre les spectateurs) et la très inspirante Somebody.
Deux rappels bien mérités ont conclu ce beau mélange de matériel récent et ancien de Bryan Adams, de près de deux heures ! Une soirée divertissante comme on aime.
Ce concert hommage à Bryan Adams aura confirmé, une fois de plus, l'engouement indéniable des Québécois pour ce rockeur canadien. Il aura aussi prouvé la performance vocale et musicale et le professionnalisme de ce trio de musiciens fort généreux et terriblement sympathiques. À revoir absolument !
Prochain spectacle Remember (hommage à Bryan Adams) : le 28 novembre à l'Index, St-Georges.
Crédit photos : Annick Langelier
Galerie : https://flic.kr/s/aHsk3m1FEC