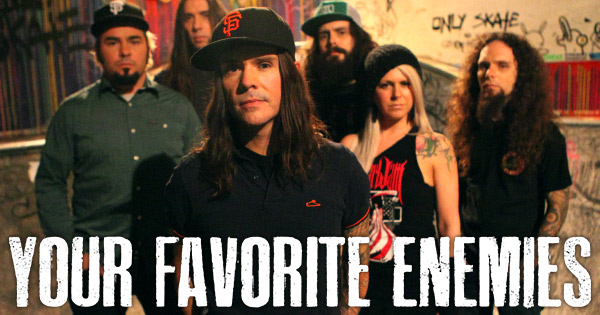 Après sa nomination au Junos Awards 2015 dans la catégorie album rock de l'année pour leur album « Between Illness And Migration », Your Favorite Enemies a mis le feu aux planches avec des prestations remarquées en première partie de « …And You Will Know Us by the Trail of Dead» lors de leur tournée américaine au printemps 2015, puis de Primus au Festival D'été de Québec, ainsi que de Vincent Vallières au Festival de la Poutine de Drummondville.
C'est maintenant au tour de Buckcherry de partager la scène du Théâtre Corona avec le groupe Drummondvillois le 29 novembre prochain! Une invitation signée Evenko que les membres de YFE ne pouvaient refuser étant leur dernière présence sur scène à Montréal avant la sortie de leur prochain album.
"C'est toujours un grand honneur et privilège pour nous de jouer à la maison et surtout de pouvoir s'exprimer dans notre langue maternelle devant de véritables connaisseurs de musique! Voilà ce qu'est de jouer à Montréal pour nous!" de s'exprimer Alex Foster chanteur du groupe ayant passé les trois dernières années à faire le tour du monde suivant la sortie de leur dernier album Between Illness and Migration!
Billets en vente dès maintenant.
Théâtre Corona Virgin Mobile : 2490 Notre-Dame ouest Montréal, 514-931-2088
http://www.theatrecoronavirginmobile.com